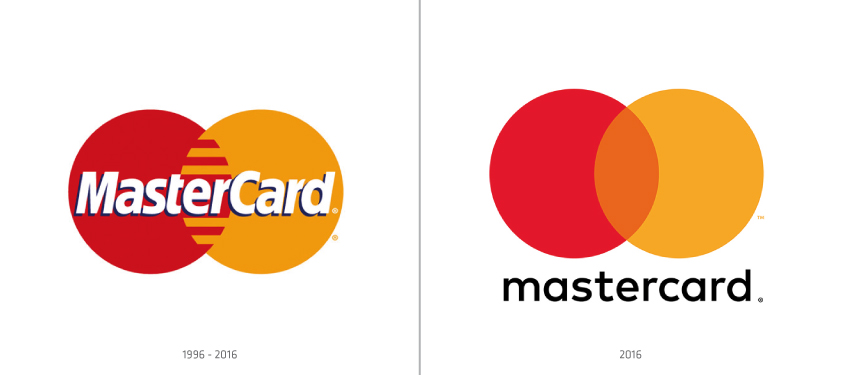 Mastercard har opdateret sit brand
Virksomheden blev grundlagt 1966, dengang hed det Master Charge,
og har heddet Mastercard siden 1979. Mastercard er en meget udbredt
betalingsservice mellem banker og forbrugere, og er aktiv i mere end 210 lande.
Det nye design er udviklet af det amerikanske designbureau Pentagram.
Første reaktion på det nye brand, vil sandsynligvis være undren.
Men lad os gå ind i hvad der er sket med den nye designevolution.
Hvis vi sammenligner det gamle fra 1996 med det nye fra 2016:
Grundstenen ved Mastercards brand er de to cirkler der går ind over hinanden
og danner et overlap mellem de to elementer.
I det nye brand er navn taget ud af symbol, og overlap er simplificeret ved ikke
at have streger. Det nye Mastercard navn (navnetræk) står nu i en Sans Serif med lille m.
Fonten hedder FF Mark som er meget oppe i tiden.
Overordnet set er det en smuk udvikling Mastercards brand har været igennem.
Det nye brand er enkelt, venligt og ligefremt. Måske ved første øjekast lidt kedeligt,
og ikke skelsættende design. Men det er præcis i sit udtryk, rammer en enkelthed
og har respekt for bevidstheden der ligger i Mastercards historie.